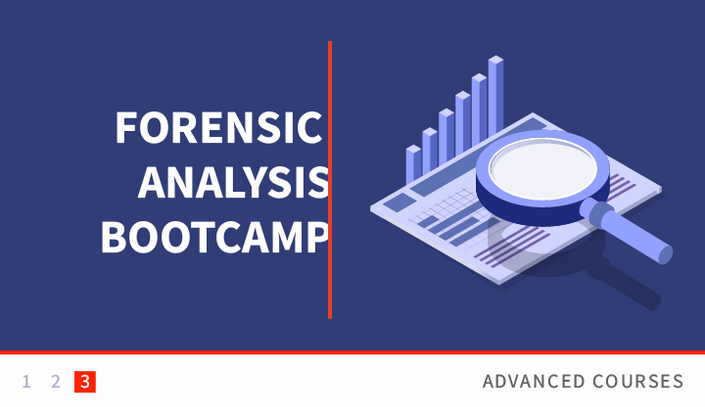 Forensic Analysis Bootcamp
Learn the mindset and techniques of a forensic equity analyst in just eight weeks.
Steve Clapham's Forensic Analysis Bootcamp


Join the top 1% of equity analysts.
Forensic accounting lets you go deeper and find investing angles that others miss.
By using the lessons and techniques in this training, you can:
✅ Gain an analytical edge in the markets.
✅ Avoid big losers at work and in your personal account.
✅ Do world-class research that gets you noticed.
✅ Get more of your ideas, long and short, selected by portfolio managers.
✅ Be seen as a top analyst in your team, firm or sector.
"Steve's course is a detailed and timely reminder of the importance of looking at the accounts and what might lie beneath the headline numbers. You will learn a lot, be able to challenge and question companies more, and make better informed investment decisions."
Andrew Stobart
Baillie Gifford
What's In This Training?
The Forensic Analysis Bootcamp is an 8 week deep-dive into forensic equity analysis, featuring a 90-minute Zoom workshop each week.
This course is a slightly modified version of the training I deliver to some of the largest and top performing institutions globally - clients like Baillie Gifford, Schroders, Wellington Management and a $50bn hedge fund which is one of the largest, consistent and most successful in the world (but doesn't want to encourage others to copy its advantages so I am not allowed even to tell you their name).
The content includes extensive use of real-life case studies and covers stocks spanning a wide range of sectors and regions. Here is just some of what you'll learn:
Why understand creative accounting, and why now
Bad actors and case studies
Issues with recognition of revenue
How companies manipulate expenses and inflate profits
How to detect shenanigans in a systematic way
How to spot balance sheet issues
Weaknesses of the cash flow statement and issues
Tools and ratios to help your analysis
After taking this course, you will have the forensic mindset and techniques needed to do world-class equity research. All you need to do is apply them.
Meet Your Teacher
Steve Clapham

Steve Clapham has 30 years of experience as an equity analyst. After a successful career as a highly rated sell-side analyst, he moved to become a partner and head of research at two multi-billion hedge funds.

In 2018, Steve started Behind The Balance Sheet to help train the next generation of world class analysts. Nowadays, many of the world's top institutional investors rely on Steve to help their analysts improve their skills.
Who is this training for?
This training is designed for professional analysts and (very) serious amateurs. If you want to do deeper research, avoid big losers in the stock market and get noticed as a top analyst, this training is for you.
Who is this training not for?
This training is only suited to people who have some experience analysing financial statements. If you aren't comfortable with accounts yet, you will be better served by my online course How To Read A Balance Sheet for now.
Ready to level up your analysis skills?
The next Forensic Analysis Bootcamp starts on February 6th 2023.
✅ 8 x 90 minute workshops on Zoom to build your knowledge and skills (classes are on Mondays from 19:00-20:30 GMT)
✅ Recordings of each group class for you to rewatch and dip into whenever you need
✅ Curated supporting material and exercises to cement and apply your learning
✅ A student forum where you can discuss lessons, make connections and ask any questions (answered by Steve or a fellow student)

✅ FREE access to my online course on analysing financial statements, How To Read A Balance Sheet (worth £399)
✅ Limited spots, so you get the most out of this learning experience
£2000 £1499 introductory price
"I really enjoyed the course and found it really thought provoking. It is depressing how CFOs are incentivised to polish their accounts to such an extent and I didn't realise that these practises are as prevalent even amongst those who aren't outright crooks."
Maxime le Floch
Hermes Investment Management
How can I ask questions?
You will have an opportunity to ask questions in each of the live sessions. There is also an exclusive community where you can ask questions and interact with your fellow students not only during the 8 weeks but on an ongoing basis.
This training will pay for itself three, four, even fifty times over.
That might sound too good to be true, but think about it. All it takes is:
1 mistake avoided in your personal investing account. In bear markets, stocks with shady accounting always get crushed.
1 promotion or opportunity earned through the deeper analysis you'll produce after taking this course. Great work does not go unnoticed. Especially when the stakes are this high.
Join today to claim your introductory saving of £500, plus free bonuses worth over £399.
Frequently Asked Questions
When does the course start and finish?
This edition of the Forensic Analysis Bootcamp runs from Monday February 6th to Monday April 3rd. The live Zoom workshops will take place from 18:00-19:30 UK time every Monday. This corresponds to 13:00-14:30 New York time, so it's still convenient!
How long do I have access to the course?
How does lifetime access sound? After enrolling, you have unlimited access to this course for as long as you like - across any and all devices you own.
What happens if I miss a live workshop?
To get the most out of this course, we recommend attending every class live. If you can't make a class for personal or work reasons, full recordings of each lesson will be available.
Will my employer reimburse me?
If you are a professional analyst, there is a high chance that your employer will reimburse you for this training. Email
[email protected]
for an email template you can use to make your case.
Is there a team option?
As well as being fun, learning with your colleagues means you'll all be on the same page regarding forensic analysis. Plus, you can work together and apply the lessons to live situations in your portfolio. For team orders of 3 or more analysts, please get in touch.