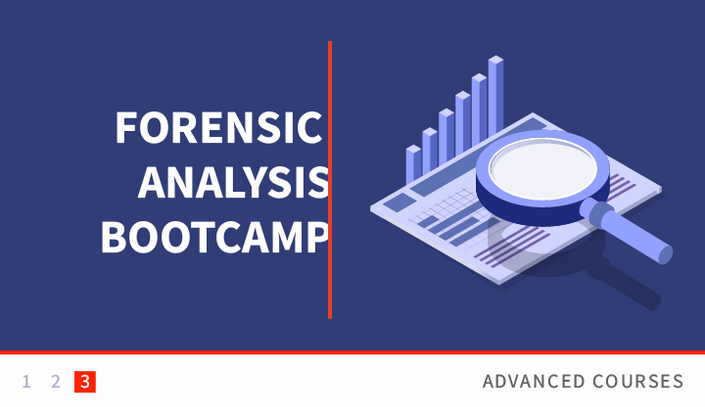 Forensic Analysis Bootcamp
Learn the mindset and techniques of a forensic equity analyst in just eight weeks.
Steve Clapham's Forensic Analysis Bootcamp


Join the top 1% of equity analysts.
Forensic accounting lets you go deeper and find investing angles that others miss.
By using the lessons and techniques in this training, you can:
✅ Gain an analytical edge in the markets.
✅ Avoid big losers at work and in your personal account.
✅ Do world-class research that gets you noticed.
✅ Get more of your ideas, long and short, selected by portfolio managers.
✅ Be seen as a top analyst in your team, firm or sector.
"Steve's course is a detailed and timely reminder of the importance of looking at the accounts and what might lie beneath the headline numbers. You will learn a lot, be able to challenge and question companies more, and make better informed investment decisions."
Andrew Stobart
Baillie Gifford
What's In This Training?
The Forensic Analysis Bootcamp is an 8 week deep-dive into forensic equity analysis, featuring a 90-minute Zoom workshop each week.
This course is a slightly modified version of the training I deliver to some of the largest and top performing institutions globally - clients like Baillie Gifford, Schroders, Wellington Management and a $50bn hedge fund which is one of the largest, consistent and most successful in the world (but doesn't want to encourage others to copy its advantages so I am not allowed even to tell you their name).
The content includes extensive use of real-life case studies and covers stocks spanning a wide range of sectors and regions. Here is just some of what you'll learn:
Why understand creative accounting, and why now
Bad actors and case studies
Issues with recognition of revenue
How companies manipulate expenses and inflate profits
How to detect shenanigans in a systematic way
How to spot balance sheet issues
Weaknesses of the cash flow statement and issues
Tools and ratios to help your analysis
After taking this course, you will have the forensic mindset and techniques needed to do world-class equity research. All you need to do is apply them.
Meet Your Teacher
Steve Clapham

Steve Clapham has 30 years of experience as an equity analyst. After a successful career as a highly rated sell-side analyst, he moved to become a partner and head of research at two multi-billion hedge funds.

In 2018, Steve started Behind The Balance Sheet to help train the next generation of world class analysts. Nowadays, many of the world's top institutional investors rely on Steve to help their analysts improve their skills.
Who is this training for?
This training is designed for professional analysts and (very) serious amateurs. If you want to do deeper research, avoid big losers in the stock market and get noticed as a top analyst, this training is for you.
Who is this training not for?
This training is only suited to people who have some experience analysing financial statements. If you aren't comfortable with accounts yet, you will be better served by my online course How To Read A Balance Sheet for now.
Ready to level up your analysis skills?
The next Forensic Analysis Bootcamp starts on October 16th 2023.
✅ 8 x 90 minute workshops on Zoom to build your knowledge and skills (classes are on Mondays from 17:30-19:00 GMT)
✅ Recordings of each group class for you to rewatch and dip into whenever you need
✅ Curated supporting material and exercises to cement and apply your learning
✅ A student forum where you can discuss lessons, make connections and ask any questions (answered by Steve or a fellow student)

✅ FREE access to my online course on analysing financial statements, How To Read A Balance Sheet (worth £399)
✅ Limited spots, so you get the most out of this learning experience
£2000 £1750 price for October 2023 cohort only
Feedback from the First Cohort
"With the Forensic Analysis Bootcamp, Behind the Balance Sheet developed a very compelling approach to provide valuable insight into how to avoid investment mistakes, even for seasoned analysts. I enjoyed it very much and highly recommend it!"
Rolf R, Buy-side analyst, Zurich
"I spent more than 15 years as a sell-side analyst and I wish I had done Steve's course at the start of my career. In fact, it should be mandatory for anyone responsible for analysing companies and their accounts."
Chris, Former sell-side analyst, London
"Valuable course detailing the multitude of ways companies manipulate their accounts. It has provided me with a useful framework for how to approach a set of accounts and the key red flags to look out for. I would recommend it to any serious financial analyst."
Andrew Fargus, Vintage Asset Management, Investment Manager
"I had the pleasure of being part of Forensic Analysis Bootcamp. Steve did a fantastic job of curating detailed material, laid out the course incrementally clearly emphasizing salient learnings and guided all of us through really deep accounting material deftly with well considered examples from real life companies to illustrate and bring home the point he was trying us to learn. I found the live sessions very engaging and educative to enhance our understanding of accounting including nuances around GAAP/FRS etc.
I found him very knowledgable , wonderfully relaxed in engagement style and optimized the whole experience for learning. He was even kind enough of offer us additional sessions to ensure our grasp of material was good and answered any questions that were raised.
I would highly recommend any one wishing to deeply understand forensic accounting check out this course as an option to see if it fits their needs."
Bala Thiruppanambakkam, Private Investor, Califormia
"An enjoyable and insightful course that instils a healthy sense of scepticism and helps clarify the complex to enable better investment decisions"
Richard Machen, Equity Analyst, Border to Coast Pensions Partnership
"If you're serious about managing downside risk in your portfolio, this is the course for you. Full of practical advice and tools that you can apply from day one."
Roman, Credit Analyst, Japan
"Can thoroughly endorse Steve Clapham's Forensic Analysis Bootcamp. The manner in which Steve systematically dissects a set of accounts is very insightful. Even those analysts and PMs with a good grounding in accounts analysis will benefit from attending this course."
James Chapman, Portfolio Manager, Columbia Threadneedle
"Steve's knowledge of accounting and his ability to interpret financial statements is second to none. His course is the most thorough examination of how companies might manipulate their accounts I have come across. Any analyst or investor who wants to be successful should sign up to it."
Adrian Murray, Buyside Analyst, Maresfield Research
"I appreciated the forensic accounting course led by Steve. This course provided a comprehensive introduction to crucial matters that every analyst should understand about a company's accounts. Not only did it equip me with valuable insights and skills, but it also proved to be an enjoyable learning experience.
Steve's vast experience in forensic accounting was evident throughout the course, as he demonstrated a deep understanding of the subject matter. He was always available and more than willing to answer questions, ensuring that each participant grasped the concepts being taught. His expertise played an integral role in making the course a resounding success.
Moreover, Steve's anecdotes and stories were enjoyable to the learning process. His ability to weave personal experiences and real-world examples into the curriculum made the material engaging and relatable. These stories allowed us to understand complex concepts quickly and added a unique dimension to the course.
While Steve can sometimes be blunt in his approach, his directness contributed to a clear and concise understanding of the subject matter. His straightforward style allowed for efficient communication, which was invaluable in helping us grasp the intricacies of forensic accounting analysis.
I wholeheartedly recommend this forensic accounting course for anyone looking to enhance their understanding of company accounts. Steve's extensive knowledge, willingness to help, and engaging teaching style make it a valuable and enjoyable learning experience."
Rasmus Jacobsson, Equity Analyst, Stockholm
"As a non-finance professional, I never realized how many ways and how subtly management could manipulate the financial statements. I view a 10-K quite differently from before. The Forensic Analysis Bootcamp was eye-opening, and Steve sifts through generally overlooked details of the financial statements to find damning insights into the company."
Kevin Jiang, Private Investor, California
This training will pay for itself three, four, even fifty times over.
That might sound too good to be true, but think about it. All it takes is:
1 mistake avoided in your personal investing account. In bear markets, stocks with shady accounting always get crushed.
1 promotion or opportunity earned through the deeper analysis you'll produce after taking this course. Great work does not go unnoticed. Especially when the stakes are this high.
Join today to claim a saving of £250 for the October 2023 cohort only, plus free bonuses worth over £399.
Frequently Asked Questions
When does the course start and finish?
This edition of the Forensic Analysis Bootcamp runs from Monday October 16th to Monday December 4th. The live Zoom workshops will take place from 17:30-19:00 UK time every Monday. This corresponds to 12.30-14:00 New York time, so it's still convenient!
How long do I have access to the course?
How does lifetime access sound? After enrolling, you have unlimited access to this course for as long as you like - across any and all devices you own.
What happens if I miss a live workshop?
To get the most out of this course, we recommend attending every class live. If you can't make a class for personal or work reasons, full recordings of each lesson will be available.
Will my employer reimburse me?
If you are a professional analyst, there is a high chance that your employer will reimburse you for this training. Email
[email protected]
for an email template you can use to make your case.
Is there a team option?
As well as being fun, learning with your colleagues means you'll all be on the same page regarding forensic analysis. Plus, you can work together and apply the lessons to live situations in your portfolio. For team orders of 3 or more analysts, please get in touch.
How can I ask questions?
You will have an opportunity to ask questions in each of the live sessions. There is also an exclusive community where you can ask questions and interact with your fellow students not only during the 8 weeks but on an ongoing basis.